2000 Posts Club
Vendor
Premium Account
U.S. Navy Veteran
Donating Member
9 Second Best E/T
HFCOTM
Member ID

#2366
Messages

2,544
Reactions

6,459
Points

302
City

Pasadena
State

MD
Country

United States
Vehicle

2015 Challenger SRT Hellcat
I have a 2016 Dodge Ram 5.7 BigHorn edition. Class IV receiver and this is the following tow rating: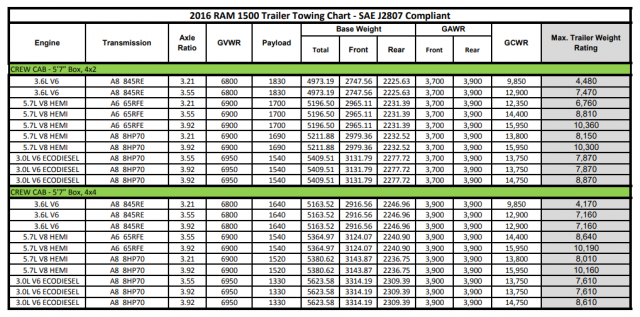 I have a 5.7" Box and it is 4x4, 8HP70 with the 3.21 gears. I also have aftermarket airbags installed from AirLift with integrated compressor, they are very nice. I am capped at 8010 based on this chart. I've been looking for an enclosed and my racing buddy will let me keep it at his property and of course he gets to use it when I am not racing. I am looking at this a Cynergy 8.5x24 Black 10K GVW with a 6'6" Interior Height. This is from a good local reputable place that recommended the 10k and 24' based on how little room there will be once the hellcat is in there.
So a couple of questions for the members, does anyone else use an enclosed that is smaller than 24' with our hellcats, how much room do you have? Does anyone have experience with Cynergy brand? The hellcat with half a tank and me in it weighed 4505 at VMP I'm over estimating at 4600. So that leaves 3400lbs left. If the trailer weights close to 3k I might be looking at an open car hauler.